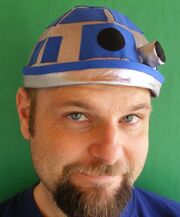 Alan Gratz (born 27 January 1972; age 45) is an author of novels, short stories, plays, magazine articles, and radio commercials. His short fiction has appeared in Metropulse magazine and Alfred Hitchcock's Mystery Magazine, among others.
In addition, Gratz has taught writing to middle school students in Tokyo, Japan, worked with young writers from the Columbus, Ohio area, and written a few episodes of A&E's City Confidential series.
Gratz was born and raised in Knoxville, Tennessee, and attended the University of Tennessee, where he earned a College Scholars degree with a specialization in creative writing, and, later, a Master's degree in English education. He currently lives in western North Carolina with his wife Wendi and his daughter Jo.
Star Trek workEdit
Some non-Star Trek worksEdit
Samurai Shortstop
Something Rotten
Something Wicked
The Brooklyn Nine
Fantasy Baseball
External links
Edit
Ad blocker interference detected!
Wikia is a free-to-use site that makes money from advertising. We have a modified experience for viewers using ad blockers

Wikia is not accessible if you've made further modifications. Remove the custom ad blocker rule(s) and the page will load as expected.