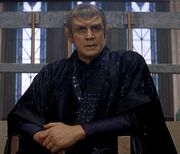 You may also be looking for the fictional character Alan-a-Dale.
Alan Dale (born 6 May 1947; age 68) is an actor who hails from New Zealand. He is most noted for playing Jim Robinson in the long-running Australian soap Neighbours. Dale portrayed Praetor Hiren in Star Trek Nemesis, and has also appeared on Lost (as Charles Widmore), 24 (as Vice President Jim Prescott), The X-Files, The Lone Gunmen, NCIS, The O.C. as recurring character (later series regular) Caleb Nichol (with Melinda Clarke's Julie Cooper becoming his on-screen wife), Ugly Betty (as Bradford Meade), and in Indiana Jones and the Kingdom of the Crystal Skull.
Having appeared in the Doctor Who spin-off series Torchwood, Dale is one of the few actors to have appeared in both the Star Trek and the Doctor Who franchises.
External links