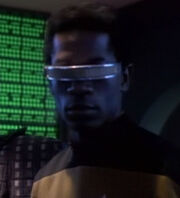 Aikins is the last name of the actor who appeared as the double for Geordi La Forge in the Star Trek: The Next Generation fourth season episode "The Mind's Eye". He received no credit for this part and was identified by the call sheet for the day of shooting, Thursday 28 March 1991. He filmed his scenes on Paramount Stage 16.
Ad blocker interference detected!
Wikia is a free-to-use site that makes money from advertising. We have a modified experience for viewers using ad blockers

Wikia is not accessible if you've made further modifications. Remove the custom ad blocker rule(s) and the page will load as expected.