Ad blocker interference detected!
Wikia is a free-to-use site that makes money from advertising. We have a modified experience for viewers using ad blockers

Wikia is not accessible if you've made further modifications. Remove the custom ad blocker rule(s) and the page will load as expected.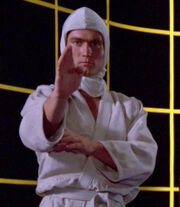 Aikido was a Human art of self-defense that originated in Japan. This martial art used holds and locks, and taught the principles of nonresistance to debilitate the strength of an opponent.
Hoshi Sato held a black belt in aikido. (ENT: "Observer Effect")
Security chief Natasha Yar was trained in aikido and demonstrated this in a holographic program to the Ligonians Lutan and Hagon on the holodeck. (TNG: "Code of Honor") Three days before her death, Yar was scheduled to participate in a martial arts competition with science officer Swenson and Lieutenant Minnerly. She was favored in the ship's pool. (TNG: "Skin of Evil")
External link
Edit