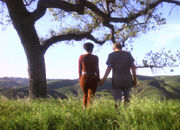 The Ahmanson Ranch is an area in the eastern Ventura County in California, located at Victory Boulevard, Lasky Mesa, West Hills, Los Angeles, California, USA. According to the Star Trek: Deep Space Nine Companion it stood in as the planet Gaia in the Star Trek: Deep Space Nine fifth season episode "Children of Time".
The Ahmanson Ranch was also used as filming location for movies such as Gone with the Wind (1939), The Thundering Herd (1925), The Charge of the Light Brigade (1936), They Died With Their Boots On (1941), Silver Spurs (1936), Santa Fe Trail (1940), Duel in the Sun (1949), and Wild Heritage (1958). [1]
External link
Edit
Ad blocker interference detected!
Wikia is a free-to-use site that makes money from advertising. We have a modified experience for viewers using ad blockers

Wikia is not accessible if you've made further modifications. Remove the custom ad blocker rule(s) and the page will load as expected.