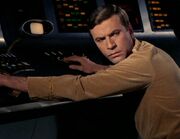 Adam Roarke, born Richard Jordan Gerler (8 August 1937 – 27 April 1996; age 58), played Garison in the first Star Trek pilot, "The Cage". He passed away in 1996 of a heart attack.
Roarke filmed his scenes for "The Cage" between Tuesday 1 December 1964 Thursday 3 December 1964 at Desilu Culver Stage 16.
He is best known as playing a number of bikers in many different biker flicks in the 1960s, usually donning a black leather jacket.
External links
Edit
Ad blocker interference detected!
Wikia is a free-to-use site that makes money from advertising. We have a modified experience for viewers using ad blockers

Wikia is not accessible if you've made further modifications. Remove the custom ad blocker rule(s) and the page will load as expected.