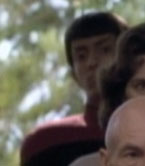 A. Valdez is the actor who portrayed the Vulcan Starfleet cadet in the Star Trek: The Next Generation fifth season episode "The First Duty" in 1992. As a background performer he received no credit for this appearance but is listed on the call sheets of the episode. Valdez filmed his scenes on Monday 27 January 1992 on location at the Japanese Garden and on Friday 31 January 1992 and Monday 3 February 1992 on Paramount Stage 16. He is listed as "male Vulcan cadet" on the call sheets.
Ad blocker interference detected!
Wikia is a free-to-use site that makes money from advertising. We have a modified experience for viewers using ad blockers

Wikia is not accessible if you've made further modifications. Remove the custom ad blocker rule(s) and the page will load as expected.