Events
January
February
March
April
- Pocket DS9 omnibus Twist of Faith is released, collecting Avatar, Books One and Two by S.D. Perry, Abyss by David Weddle & Jeffrey Lang, and Demons of Air and Darkness and "Horn and Ivory", both by Keith R.A. DeCandido
May
June
July
August
- the Pocket TNG novel Resistance by J.M. Dillard is released.
September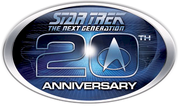 October
- Pocket TOS novel Academy: Collision Course, by William Shatner with Judith & Garfield Reeves-Stevens, is released.
November
- Pocket TNG eBook Slings and Arrows miniseries Book 2, The Oppressor's Wrong by Phaedra M. Weldon, is released.
- Monty Westmore dies.
- Star Trek: Conquest video game for the Nintendo Wii and Sony Playstation 2 is released.
December
- Gary Epper dies.