Recommended LayoutYou are currently viewing Memory Alpha without recommended changes to the standard layout. To apply these changes, please click on the following Apply link - to just get rid of this notice, click on Reject. In either case, click Save page on the page that follows.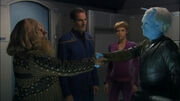 Welcome to Memory Alpha, StAkAr Karnak!
I've noticed that you've already made some contributions to our database – thank you! We all hope that you'll enjoy our activities here and decide to join our
community
.
If you'd like to learn more about working with the nuts and bolts of Memory Alpha, I have a few links that you might want to check out:
One other suggestion: if you're going to make comments on talk pages or make other sorts of comments, please be sure to sign them with four tildes (~~~~) to paste in your user name and the date/time of the comment.
If you have any questions, please feel free to post them in our Ten Forward community page. Thanks, and once again, welcome to Memory Alpha!--Alan del Beccio 02:08, 13 Aug 2005 (UTC)
Categorization
Hi. It is not necessary to categorize articles, in the way that you are, as we have special bots designated to do it. All you need to do is provide one of the bot controllers with a list (usually a subpage that can be deleted) of the things that you wish to categorize and they will get to it as soon as they have the time. Thanks. --Alan del Beccio 03:07, 10 Oct 2005 (UTC)
Hey StakAr don't forget, MA is also great because new edits stay in the "recent changes" much longer then wika because it is not about everything in the world. I made a change on wika but with all the other edits it's gone before I even click the link. --TOSrules 05:18, 10 Oct 2005 (UTC)
Because it is easier to browse the edits of others when the edits are limited to intelligent edits and not just edits that can be performed by a bot that are otherwise unseen. --Alan del Beccio 05:32, 10 Oct 2005 (UTC)
When I asked you this in the first place, it was with good reason -- it is not necessary to categorize articles, in the way that you are. Additionally, while the name of Category:Religious figures has been approved by a community consensus, the article or category contents of this new category are still under discussion. Clearly there has been some confusion about what belongs in this category, as a number of the names you are adding do not fit into the category as it was originally discussed. If you wish to further discuss this, please use the following talk page. Thank you. --Alan del Beccio 17:26, 11 Oct 2005 (UTC)
Category
Please use Memory Alpha:Category suggestions to suggest new categories. We have a well-established process in creating new categories, of which, your suggestion for Category:Production-named species must also undergo. --Alan del Beccio 05:32, 10 Oct 2005 (UTC)
Bajoran Proverbs
Congrats on being the first person to comment on them! I'm sure they're just real sayings that someone thought sounded like Bajoran ideas... maybe you could do a Google search for each one, and find out who said which one! They're only on the first two season fo DS9, on the UK version video covers (The ones that have little image on the spine that makes a big picture if you put them all together). I just thought they were interesting, although, of course, they're nothing to do with the episodes. :-) As for the later episodes, there are quotes, but they're from one of the two episodes on the video. EG: on 4.3 (containing "Indiscretion" and "Rejoined") there is a quote from Dukat, which says: "...personal reasons can be quite an incentive..." Zsingaya Talk 08:23, 1 Dec 2005 (UTC)
Cited source
I cited the source to Wired for the Ticonderoga info -- fan fiction and fan films are topics that many feel don't belong on MA, so I'm just trying to keep them as businesslike as possible. Sorry i had to question the addition, but I think the latest version is a good compromise (data on what fan films Cawley appears in and who he plays is best referenced at fan films, only the data dealing with Ticonderoga directly seems fitting in that article.
Citing news and magazines is a new field for Memory Alpha, but i feel its a direction we should be working on, so thanks for helping to find a way to reference a magazine article here.
See you round the galaxy... -- Captain Mike K. Barteltalk
Links to Conventions
Being the "Canon Star Trek wiki" we try to avoid most of the IRL aspects of Star Trek (but some are allowed, like Design patents and CGI, etc.) but being as there are no links to Star Trek conventions of any type as far as I can tell, I presume that that kind of thing is out of our purview. But if a different decision is brought up in Ten Forward, my apologies. - AJ Halliwell 19:13, 13 August 2006 (UTC)
More Moore
I noticed that you added many comments by Ronald D. Moore to various articles. While I think it is interesting to know what he thinks about his own creations, be it characters or episodes, I really think it is unnecessary to know that Ron Moore thinks "Up The Long Ladder" is "embarassing", an episode which was written one year before he had anything to do with the show. --Jörg 15:26, 21 August 2006 (UTC)
Hi, while more of Moore is appreciated - can you be a bit more conservative about which pages you add them to? His opinion on everything isn't necessary, and is actually becoming an eye soar. Specifically, this was spawned by the "He doesn't believe there's a death penalty in the Fed." because we have screen evidence there isn't, except for the one, which we can leave up to the fans to decide if still exists. Maybe his opinions on things he was directly involved in, and some of the broader Star Trek topics - but a link to the interview site on his article covers it, because several users have been complaining. - AJ Halliwell 15:12, 8 September 2006 (UTC)
Strike 1
Popping my head in as one of the complaining users. The problem I have is that Moore is just one of the writers/producers. He is not the only one. I do not think it is fitting to have his comments on everything under the sun in Star Trek. We don't even have Roddenberry's views in anywhere near the detail that we know have Moore's. It just doesn't make sense or seem needed to me. --OuroborosCobra talk
15:31, 8 September 2006 (UTC)
Strike 2
Actually, there are about five or six of us who have been complaining about them over at the IRC; not everything takes place on MA. Anyways, I'm one of the complainers. While I can see a use for Moore comments on aspects of the Trek universe that he, himself, was responsible for, I don't think we need every single comment he has made on every single subject. That's a bit redundant (for lack of a better word), IMO. Basically, what he has to say about his episodes or movies: interesting. His thoughts on things he had nothing to do with or random subjects such as Starfleet operations, Cardassian cuisine, and the death penalty? Not interesting. Again, IMO. --From Andoria with Love 17:01, 8 September 2006 (UTC)
Strike 3
Bp commented:
Out
Thank you for bringing your concerns to my attention. If there's a place for "every single subject" at MA, which some might find obsessive, then I do not understand why complimentary background info on said subjects is unwelcome. I feel it enhances the articles, but it looks like YMMV. I saw no need to paraphrase because his words are not copyrighted and I didn't want to lose the flavor of his delivery. Again, YMMV.
Here's where we stand - Out of respect for the wishes of OuroborosCobra, Shran, and Bp, I will refrain from adding any more Moore. While I think everyone is in agreement that some of Ron's words are appropriate, I am not objective enough to finish searching them. Whoever wishes can sift through the remainder of his archive and use what fits your aesthetics. 5 Mar 1998-26 Mar 1999 have not been done. -- StAkAr Karnak 20:19, 8 September 2006 (UTC)
Talk Page formatting
As an aside, I'd recommend checking out Help:Talk page for formatting purposes (specifically how much you indent responses, etc). As per policy, you should indent to the same level as each of your responses, so if you started the discussion, your indent level should be at that level each time you respond, even if someone's response is indented four or five times. Thanks! -- Sulfur 17:52, 18 September 2006 (UTC)
Christie's auction images
Hi StAkAr. While the legality of using the images from the Christie's Auction catalogue is being discussed at Ten Forward, I would stop uploading images from it. There is no consensus right now on whether it is legal, and in fact a lot more evidence that it isn't (see especially the copyright info that Jorg posted). --OuroborosCobra talk
01:45, 26 September 2006 (UTC)
Production History + Apoc in Episodes
Can you make sure to make these bits subsections of BG Info? Just use '===' rather than '==' as their section demarkers. Thanks! -- Sulfur 19:26, 24 October 2006 (UTC)