ACTIVE PROJECTS AND ARTICLES TO BE ADDED TO MEMORY ALPHA
Military references in episodes and films
In addition to the obvious similarities between Starfleet uniforms and United States Navy insignia, several Star Trek episodes and films have had characters using military terms or coming into contact with U.S. military personnel. Such productions include:
The Original Series
"Mudd's Women": It is established that Starfleet Captains, much like modern day naval counterparts, have authority to convene a board of inquiry to investigate certain situations.
"Balance of Terror": Written along the lines of a Destroyer-Submarine conflict, this episode is full of military terms, including various shipboard alerts and damage control jargon, as well as establishing that Starfleet is a tasked with defending the United Federation of Planets.
"Court Martial": This episode explains that Starfleet has a military court system very similar to that used by the United States armed forces.
"Errand of Mercy": Starfleet is described as consisting of dozens of starships which can form fleets to stop an invasion force. James Kirk refers to himself in this episode as a "soldier".
"By Any Other Name": It is mentioned that Starfleet has "handled foreign invasions before".
The Feature Films
Star Trek: The Motion Picture: The Starfleet Reserve is indirectly mentioned through the reserve activation clause. Regulations are discussed where an Admiral can take command of a starship in an emergency situation. While real world military regulations do exist for this occurrence, unlike the procedure seen in ST:TMP, this does not involve demoting the current Captain to the rank of Commander.
Star Trek II: The Wrath of Khan: Starfleet Academy is again revisited with a large amount of material revealed on the training of Starfleet Midshipman as well as an advanced course of instructions for command division officers
The Next Generation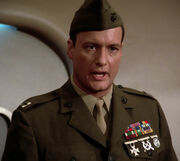 "Encounter at Farpoint": Q impersonates a Captain of the United States Marine Corps, to include using the saying "All it takes are a few good men" (the recruiting slogan of the USMC at the time that the pilot of The Next Generation was produced.
"The Measure Of A Man": The Starfleet Judge Advocate General Corps is seen for the first time since the Original Series. A staff Captain also appears and it is discussed that Starfleet regulations require a court martial for any captain who loses his or her starship to an accident or enemy action.
Deep Space Nine
Voyager
Enterprise
"First Flight": The Starfleet Test Pilot program is discussed, similar in its description to modern day military test flight programs.