Featured society and culture article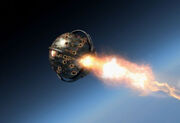 The Xindi incident or Xindi crisis was a series of events lasting nearly a year, from March 2153 to February 2154, involving the Enterprise NX-01's attempt to save Earth from destruction by the Xindi. It was a major turning point in the Temporal Cold War, and the incident also helped pave the way for the creation of the Coalition of Planets, a precursor to the Federation.
In March of 2153, acting on false intelligence provided by the Sphere-Builders, the Xindi launched a surprise attack on Earth. The Xindi, who had been without a homeworld since the 2030s, had been informed by their protectors that, in the 26th century, Humanity was going to destroy their new homeworld.
Because of this, the Xindi-Primate scientist (and Xindi Council member) Degra had been working for several years on a weapon capable of destroying Earth.
Ad blocker interference detected!
Wikia is a free-to-use site that makes money from advertising. We have a modified experience for viewers using ad blockers

Wikia is not accessible if you've made further modifications. Remove the custom ad blocker rule(s) and the page will load as expected.