Featured society and culture article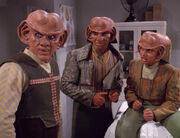 The Ferengi were a spacefaring humanoid species native to the planet Ferenginar. Ferengi civilization was built on the ideals of pure laissez-faire capitalism, in which all other goals were subjugated to the pursuit of profit.
Their governing body, known as the Ferengi Alliance, was formed over a period of ten thousand years, beginning with the establishment of a system of currency, to their purchase of warp technology, and finally to its current state in the 24th century.
The Ferengi culture had roots similar to that of the many other species, filled with wars, violence, and greed. However, Ferengi managed to avoid many of the worst aspects of an evolving culture and their social history is notable for the absence of atrocities such as slavery or genocide, a distinction the Ferengi felt makes them morally superior. Ferengi culture slowly grew out of its early stages by introducing a remarkable economic system that developed from early bartering systems to become one of the leading cultures in interstellar commerce.