Featured society and culture article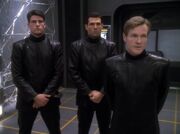 Section 31 was the name of an officially-nonexistent clandestine organization within Starfleet Intelligence that claimed to protect the security interests of United Earth and later the United Federation of Planets.
The organization's title came from the original Starfleet Charter, Article 14, Section 31, which allowed for extraordinary measures to be taken in times of extreme threat. At some point before 2151, a young Ensign Malcolm Reed was recruited by Section 31 through former Starfleet Security officer Harris. By the time Reed was posted to Enterprise NX-01, he was no longer actively involved in covert operations.
However, in late 2154, when Reed was investigating the kidnapping of Doctor Phlox, he was contacted by Harris again. Harris' organization had entered into a secret agreement with Klingon Fleet Admiral Krell, in which Harris facilitated Phlox's forcible transportation to a Klingon colony to help in finding a cure for the Klingon augment virus in exchange for a mutually beneficial alliance.
Ad blocker interference detected!
Wikia is a free-to-use site that makes money from advertising. We have a modified experience for viewers using ad blockers

Wikia is not accessible if you've made further modifications. Remove the custom ad blocker rule(s) and the page will load as expected.