Deletion
Deletion has been suggested for this page according to the deletion policy. In the normal day-to-day operations of Memory Alpha, some pages are deleted for various reasons. This deletion suggestion and reasoning can be discussed on:
This page is a list of appearances of the number 47.
The tradition to include the number 47 in episodes after episodes was begun by Joe Menosky, the Executive Story Editor during the fourth season of Star Trek: The Next Generation. The number 47 has since then been used by many other editors.
To read a more detailed explanation about the number 47 you can read the article about it.
The Next Generation
Season 4
Season 5
Season 6
Episode 1 : "

Time's Arrow, Part II

" : Samuel Clemens tells Picard "a frequency of, um, .047 on your phaser will correctly activate this... this creature."
Episode 2: "

Realm of Fear

" : 47 can be seen on the control panel of the medical scanner Dr. Crusher uses on Barclay. It is the second button down.
Season 7
The number 47 appears on many TNG DVD menu screens. For example, all TNG Season 4 DVD episode menu screens have on them "147" and "P-47".
Deep Space Nine
The Defiant's registry number is 74205
Season 1
Season 2
Season 3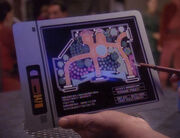 Season 4
Season 5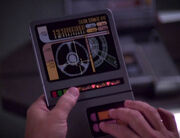 Season 6
Season 7
Voyager
The Star Trek: Voyager Complete Series on DVD contains a total of 47 discs.
Season 1
Season 2
Season 3
Season 4
Season 5
Season 6
Season 7
Enterprise
Season 2
Episode 19 : "

Judgment

" : Regarding the larger fragment of the ring system, T'Pol mentions "bearing 227.4".
Episode 23 : "

Regeneration

" : The hull marking 1472 can be seen above a doorway aboard the Borg's assimilated transport.
Season 3
Season 4
Movies
Other
External Links