Welcome to Memory Alpha!
Memory Alpha is a collaborative project to create the most definitive, accurate, and accessible encyclopedia and reference for everything related to Star Trek. The English-language Memory Alpha started in November 2003, and currently consists of 42,260 articles. If this is your first visit, please read an introduction to Memory Alpha.
Featured article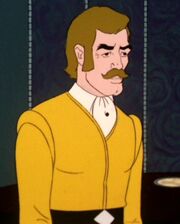 Carter Winston was the alias assumed by a Vendorian as part of a subterfuge plot. Prior to assuming this false identity, this Vendorian tended to the real Carter Winston after his trading vessel crash landed on the planet Vendor, until Winston's death almost a year later in 2265.
In 2269, this Vendorian began working for the Romulans, in the guise of Carter Winston. As part of the ruse, the impostor set Winston's craft adrift near the Romulan Neutral Zone, where it was eventually discovered by the USS Enterprise.
After successfully convincing the crew he was Winston by producing the Human's identity tape and undergoing an examination by Doctor McCoy, he "reunited" with Winston's fiancée, Anne Nored, telling her that he'd changed and couldn't ever marry her.
Editing Memory Alpha
| | | | |
| --- | --- | --- | --- |
| Basic information | About the encyclopedia | Writing articles | Works in progress |
Ad blocker interference detected!
Wikia is a free-to-use site that makes money from advertising. We have a modified experience for viewers using ad blockers

Wikia is not accessible if you've made further modifications. Remove the custom ad blocker rule(s) and the page will load as expected.